Dutch-Houses // Hangar House ©
"Energy Neutral building"
The by WDAS designed Hangar House is being built by the finest construction company with many years of experience with this kind of utility constructions. By that we build under the Dutch Construction Guaranty quality mark (Bouwgarant)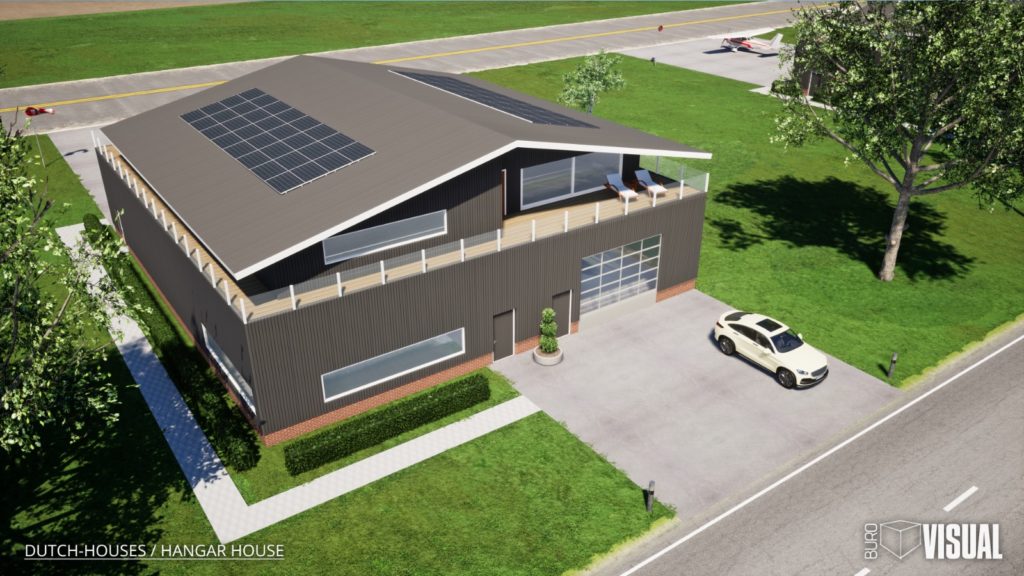 Imagine, how nice would it be to wake up and walk to the balcony with a cup of coffee and overlook the runway to explore the weather for flying, pull out your aircraft out of your hangar underneath your home, go flying and return to enjoy the evening sunset on your balcony.
For many General Aviation (GA) airports, it is hard for the airfield owner to make the airfield viable for aviation usage. One way of achieving benefit efficiency is to attract a number of based aviation companies by having a number of Dutch-Houses // Hangar Houses on the airfield or create an airpark for sharing costs and benefits. The concept of living next to one's hobby or work is not new.
Also ideally to redeveloping of old military airfields/airports and reshape them in the landscape as airpark living communities, with looking to the future where air travel will change in perhaps flying cars and manned drones.
A Dutch Houses – Hangar House is a revolutionair all in one design with the mindset to a sustainable future with all newest products and features incorporated.
Create your own design; On the images shown on this webpage you see the standard version with the upper-building centered on top. But you can create you own vision and style together with our architect which will help you create your perfect building/house.
For Aviation usage you could think of:
Firebrigade
FBO
Fueling station
Airfield controle tower
Restaurant/Hotel
Rooms/studio's for holiday rental included hangar space.
Maintenance shop
Aircraft cleaning shop
Pilotshop with hangar space rental
Parachute jumping school
Drone flight school/maintenance and shop
Flight-School
Simulator-School
Aircraft dealer
Museum
Home build aircraft manufacture
Or other aviation related activities like offices on the first floor.
Would you take the less than 2 minute time to fill-in the SURVEY. your email will not be used again or shared and or exposed to other parties. We only use the statics to give an overview of market interest to convince your local governments and national authorities of the interest in living on an airfield and with the advantages to it for the airport owner in his business model by collecting ground-lease and make by that the airport financialy future proof.
Bare in mind that locations on an airfield are rare and by that unique. Below a floor plan example how your future Dutch Houses – Hangar House may look like.
The Dutch Houses – Hangar House is not only designed for Aviation use. We have in mind that this would be a multi purpose building.
You can also use this building for:
Your company and living combined
Your offices above the work floor
Your hobby and living combined
Your boat beneath your living (Marina House)
Your horsing house
Or even your truck company, because you just can drive underneath your home and place at least 5 trucks on a 500m2 (square meters).
What do we offer:
Building foundation 100 tons per m2
Groundwork including sewage system and edge girder with a concrete floor
Hangar and overhead doors and small doors for the outside
Triple glass windows for total building, including window sliding doors all with triple glass windows
Casing includes Stairs, technical room and option for an elevator
Balcony and Balustrade fence
Roof 6.5 RC value and side wall with an 6.5 RC value
Solar system
Pellet CV Central heating System with no particulate matter pollution
Or revolutionair all electric hybrid ceramic heating system
Or heat pumps with airconditioning (cooling).
Installation work
Smart home system
Kitchen and bathroom
Central vacuum cleaning system
The inner walls system and doors in the house, (which allow you to configure the 1e floor layout as your taste and needs).
Unique to all WDAS Dutch Houses is the storey floor construction which can hold a load of 800kg/m2 without supporting pillars or load-bearing walls as on the ground floor and first floor and the fire delay of 89 minutes on both sides.
With this unique storey floor we managed to keep the weight of the building low and with that also the price.
---
We deliver the Dutch Houses – Hangar House basic but you can make your WDAS-Hangar House as luxurious as you like with added items like
Elevators
One piece hydraulic hangar-door up to 30m wide 10m height (in-house production)
Aluminium and Tinted windows or thickened windows
Stone strip panels
Wood panels
Iron panels
The most luxurious kitchen and badroom to install
Automated doors with sensors and remote control
Rain water tank collecting system up to 50.000. liters for indoor and outdoor usage (toilet, douche, car cleaning, property cleaning, clothes washing, gardening and even purer drinkwater uses than regular from your drinking water company with the absence of chalk. Rain water for home use.
Excluding:
Ground to build on (we can assist you by negotiating or finding the right land/locations to build on)
---
We deliver the Hangar House in several versions and sizes:
WDAS Hangar House Jet – 20m x 25m with balustrade
WDAS Hangar House Prop – 15m x 20m with balustrade
WDAS Hangar House Villa – 15m x 15m with balustrade
WDAS Hangar House Village – 13m x 15m with balustrade
WDAS Hangar House City – 11m x 15m without balustrade
WDAS Hangar House Tiny – 8m x 10m without Balustrade
WDAS Marina House with or without balustrade in different sizes
WDAS Hangar House agrarian (more generation) in development
---
---
If you are interested in our Hangar House, than we invite you to sit down with us and our partner in construction advise and architect. We can present you in 3d artist impression refined your specific building needs, like exterior colors and structures like stone strips or wood panels and your interior materials and layouts. In this fase you have also the opportunity to manipulate the construction price.
We can build this house turn-key ready in an 12 weeks time frame from the moment your signing the purchase agreement till you get delivered your keys. This is because we work and build by checklist performance, efficient and accurate to accomplish your perfect home.
We developed this Dutch Houses – Hangar house for the Dutch market but do deliver abroad within Europe and USA.
Ask us how the procedure works for delivering the Hangar House outside the Netherlands in Europe, U.K. and the USA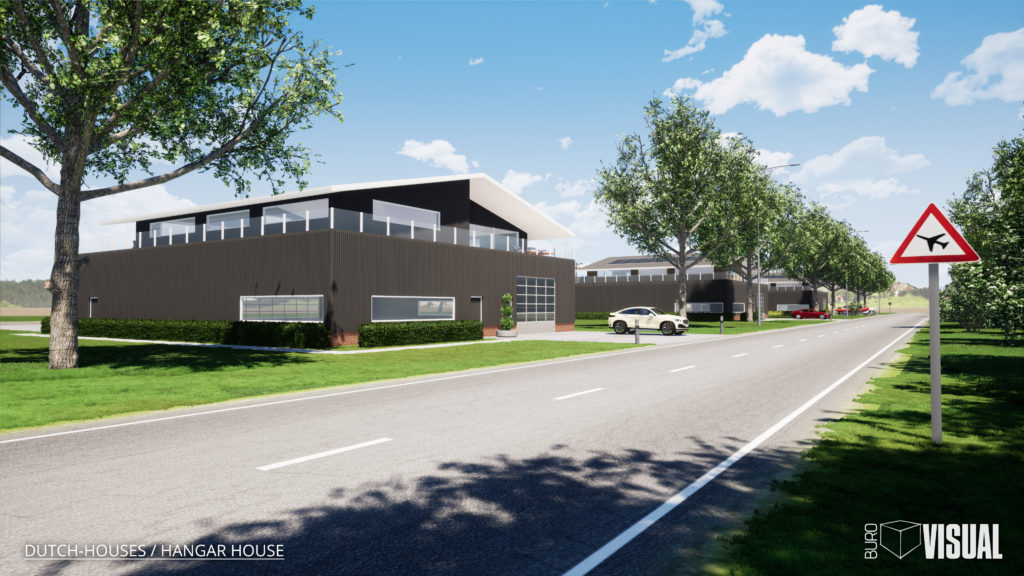 ** We at Dutch-Houses do deliver also finance via our partner for this Hangar House with a solution to everyone at competitive rates and good conditions
---
Dutch market/Nederlandse markt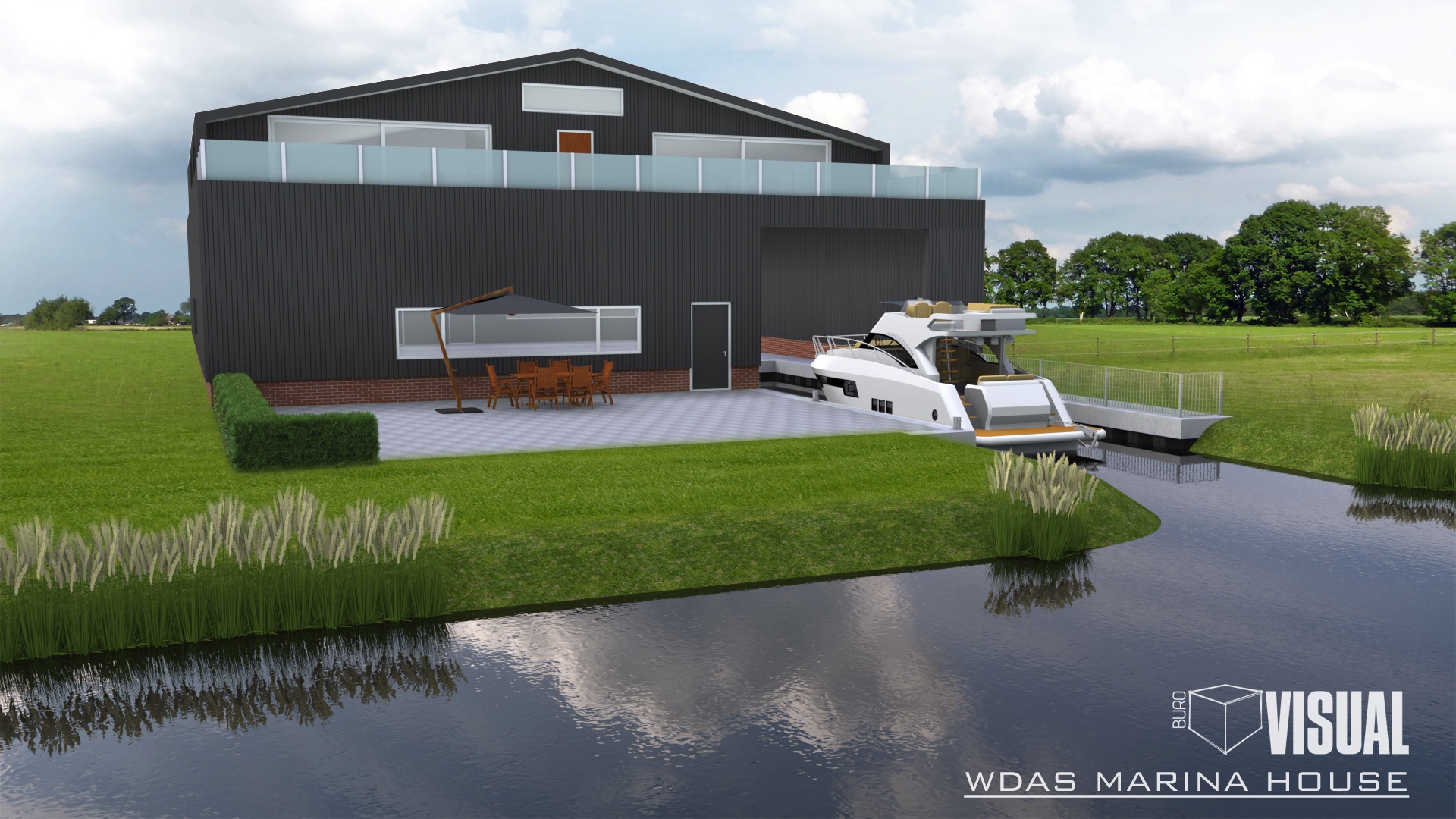 Woon-/werklocaties in Nederland: Dutch Houses – Hangar House // Marina House incl. financiering en binnenkort zichtbaar op funda en funda in business
-Drachten (woon/werk)
–Echten (FR)
-Ternaard (woon/werk)
-Oentsjerk
-Hommerts – (16.850m2) Ideaal voor paarden liefhebber €255.000,-
-Dronrijp (aan open vaarwater)
-Assen (woon/werk)
-Kollum (aan open vaarwater)
-Westereen (aan open vaarwater)
-Westereen (3 kavels a 1.100m2)
-Tolbert/Leek (woon/werk)
-Marum
-Blauwe stad (eventuele optie)
-Emmen (woon/werk)
-Groningen (woon/werk)
–Almere (Overgooi/Gooimeer/vogelhorst) – (woon/werk)
-Emmeloord – Ecopark
-Bakhuizen (aan open vaarwater)
–Rottum FRL (2138m2)
-Jirnsum FRL (4000m2) aan open vaarwater zonder hoogte restricties.
–Koudum FRL. (2500m2)
–Elahuizen FRL – 2 kavels (1000m2)
For more information contact:
Sjoerd-Jan van Klaarbergen
Phone: +31 6100 850 20

---
©2019 Dutch Houses – Hangar House. all rights reserved.