About us: Winged-Dutchman Aero Service – Sjoerd-Jan van Klaarbergen.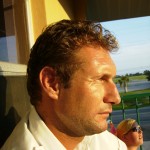 Winged-Dutchman Aero Service is lead by Sjoerd-Jan van Klaarbergen. He is 100% owner of the company and pilot. Sjoerd-Jan van Klaarbergen began his aviation career in the year 2000 when he started flying as a hobby at Airport Drachten. He soon realized flying is more than a hobby, so he sold his family business (4th generation meat business in the city Sneek – Friesland) and went to get all his American and European commercial pilot licenses. He managed to graduate within 22 months.
Nice to know:
The Company name "Winged-Dutchman Aero Service" was born in Florida – USA. Since the first and last name Sjoerd-Jan van Klaarbergen is hard to pronounce for native English speaking people. He earned this nick name. Back in the Netherlands he realized this would be an unique name for his company.
The free translations of  "Winged-Dutchman" in the dutch language is  "Gevleugelde Hollander"
Since the summer of 2015, Winged-Dutchman Aero Service bv is cooperating with Air Charters Europe, lead by Marcel Nijmeijer. He in person has more than 25 years experience in business aviation and his company is based at Groningen Airport.
Air Charters Europe and Winged-Dutchman Aero Service accommodate business flights out of the Netherlands. They especially serve the business traveler in the Northern and Eastern part of the Netherlands by providing ad-hoc flight offers and the WDAS jet-card.
The WDAS jet-card allows people to make use of our aircraft at business-class airline rates to whatever European destination they opt on real engine flight time instead of ad-hoc offer time.
Winged-Dutchman Aero Service arranges flight for there customers. All flights are performed on strict supervised EASA-AOC* aviation rules.
*EASA -AOC = European Aviation Safety Agency – Air Operation Certificate. by meaning that an commercial operation has to comply with the most stringed aviation rules to safeguard safety like the KLM airlines.
Since summer 2018 we developed the WDAS Hangar House, and is on sale in different options like WDAS Marina House or WDAS Industrial House.
Currently we offer bonds (Obligaties) to arrange finance for an 6 to 8 passenger business jet aircraft for commercial operations. If you are a business jet traveler or investors which have an interest in bonds (Obligaties) than contact us for more information.
Currently we are also looking for Diamond DA62 aircraft owners. We than rent this aircraft for commercial flights. This way the owner collect revenue out of rental which will compensate owners costs and even gain profit for the aircraft owner.
Business-travel 3.0
Winged-Dutchman Aero Service