About us: Winged-Dutchman Aero Service – Sjoerd-Jan van Klaarbergen.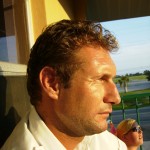 Winged-Dutchman Aero Service is lead by Sjoerd-Jan van Klaarbergen. He is 100% owner of the company and pilot. Sjoerd-Jan van Klaarbergen began his aviation career in the year 2000 when he started flying as a hobby. He soon realized flying is more than a hobby, so he sold his family business (3th generation) and went to get all his American and European commercial pilot licenses. He managed to graduate within 22 months.
Since the summer of 2015 Winged-Dutchman Aero Service bv is also cooperating with Air Charters Europe, lead by Marcel Nijmeijer. He in person has more than 25 years experience in business aviation and the company is based at Groningen Airport.
Air Charters Europe and Winged-Dutchman Aero Service accommodate business flights out of the Netherlands. They especially serve the business traveler in the Northern and Eastern part of the Netherlands by providing ad-hoc flight offers and the WDAS jet-card.
The WDAS jet-card allows people to make use of our aircraft at business-class airline rates to whatever European destination they opt.
The two companies combined have now 1 turbo-prop and 1 jet-aircraft in operation to serve business people as well people who like to travel for leisure around Europe.
Winged-Dutchman Aero Service operates the Eclipse jet 550. This Eclipse jet will be available for commercial operations and is based at Groningen Airport. The new Eclipse jet 550 is operated on an EASA-AOC*
*EASA -AOC = European Aviation Safety Agency – Air Operation Certificate. by meaning that an commercial operation has to comply with the most stringed aviation rules to safeguard safety like the KLM airline.
Business-travel 3.0